Skip Navigation
Website Accessibility
Gardiner, the north entrance of Yellowstone, is open with the new road! The only entrance that STAYS OPEN YEAR AROUND.
Park Hotel Yellowstone never closes.



Summer Activities:




Park tours, horseback riding, cookouts, river rafting, fishing,

ebike rentals, hiking, concerts, rodeos, restaurants, shops in close walking distance.





Winter activities:




-Yellowstonehotspringsmt.com is just 7 miles north on the river.
-Drive through the hub of WILDLIFE's northern range of Yellowstone year-round through Mammoth Hot Springs, Tower Falls, Lamar Valley, to Cooke City & back.
-Snow coach tours to Canyon Falls & Old Faithful with stops of interest in between with
Yellowstonevacations.com for reservations.

-Cooke City rents snowmobiles for their mountainous area only.
-Sledding on Jardine Hill just above us, snowshoeing & cross country skiing.
Our Rooms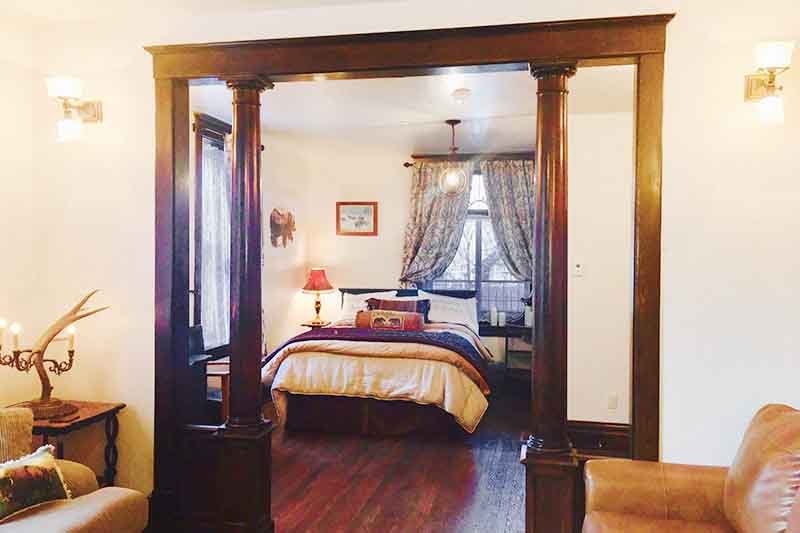 Family Suite
1st Floor - Room #101 and #102
2 Bedroom/2 Bath
More Info
Alley Side Room
1st Floor - Room #103 and #104
2 Queen/1 Bath
More Info
Queen-bunk bed Historical Suite
2nd Floor - Room #201
1 Queen/Bunk Bed/1 Bath
More Info
Park Hotel Yellowstone Gardiner, MT
Park Hotel Yellowstone is surrounded with
"diverse wilderness of Mother Nature and Main Street USA"
-Gardiner is the North Gate Entrance
-Main Original Park Entrance within the Park Boundary
-Only Entrance open year-round
-Can explore all areas of the park from here in spring, summer, & fall.
-In Winter we give car access to the "Serengeti Of Wildlife" LAMAR VALLEY,
Mammoth Hot Springs, Roosevelt, Tower Falls, to Cooke City.
-Snow Coaches, snowmobiles, & tours to reach the remaining areas of the park.
-All seasons are a very special time in the park.
Guest Rooms
The blend of vintage and modern amenities offers some luxury & convenience at the front door of our magnificent Yellowstone.
All rooms & suites include air conditioning, private bath, satellite TV and free high-speed WiFi

1 block from Yellowstone Park

Walk to restaurants, shops, bars, grocery store, Rock Arch, & Yellowstone Park

Walk to rafting, horseback rides, 10% off

Convenient location to stay & explore all parts of the park. Drive one loop a day

Many fascinating, extraordinary & popular sites of park are convenient to our location

Mountain and Yellowstone Park Views from some of the rooms
Wild animal visitors

Come take shower with a buffalo or bear

Private gated yard with covered outdoor veranda porch with seating and activity to be shared by all guests

Rock fire pit in front yard for evening campfires

Barbecue grill

Bring a smaller version of your state or country's flag with your autographs to hang at Park Hotel

Handicap room available on ground floor
Parking is free and public

Can help with bags if we see you on arrival or departure. You can call or text us.

No front desk, just easy codes on doors, no keys to keep track of.

Information area on front porch and 2nd level foyer.

Chamber of commerce is one block away for more information if needed.

This is Big Sky Country!
Rafting/Horseback Riding Packages offered by our town neighbor Patrik with Paradise Adventure Co

Horseback/barbecue packages with our ranch neighbor Stermitz Family

There are also zip line, raft, Horse and barbecue packages.

We can assist to drive, buying groceries, someone to cook, massages....
Things to Do in Gardiner, MT
Gardiner is located in the heart of Yellowstone's Northern Range, at the junction of the Gardiner and Yellowstone Rivers.
"Nature's Favorite Entrance"
Our special place is downtown small town Gardiner, everything you need within walking distance

The main entrance to Yellowstone Park, and the original entrance to the park via Roosevelt Arch

Old Faithful and Geysers

Lamar Valley: "Serengeti of Wildlife"

Steaming terraces of Mammoth Hot Springs—5 miles

Soak at Yellowstone Hot Springs 7 miles north

Yellowstone Hot Springs—7 miles north of us on the Yellowstone River. Yellowstonehotspringsmt.com

Upper and Lower Falls hiking areas

Horseback Riding, River Rafting, And Fishing, Ebikes, Hiking, River Walk

Old Stagecoach Route on old Yellowstone trail next to the river

Roosevelt Lodge Cookout

The valley you drive through is where my family homesteaded since the 1800s
Restoration Details
1902 Rock house built by cavalry captain for many members of his family.
Tami bought rock home October 2015; she immediately started restorations from foundation up. The hotel went from being the "dirt road diva," to a newly paved Main Street USA, and the "new alley cat" with parking. Tami has worked hard to make it a special place to share with you. Opened Summer of 2017.